Short on Space
Simply put, Porter's Thriftway was out of room. Business was growing and long lines were beginning to form during peak times. Porter's began to realize the throughput their current footprint was providing was not going to cut it. Three additional checkout lanes were needed to accommodate their increase in sales, but Porter's lacked the square footage to add the lanes. The disruption of demo and new construction was too costly to be an option. Porter's was in search of a creative solution to maximize their current space.
A Self-Service Solution
"We went to the TRUNO conference with no interest in self checkout," said Trae Porter, Owner of Porter's Thriftway. "Our biggest concern was that customers would think we weren't taking care of them." Pre-conceived opinions began to shift during the 2014 TRUNO conference. It was clear; self-service would take smaller baskets out of the traditional point-of-sale lanes, ultimately improving the customer experience at Porter's. Proven to increase speed and expand capacity, the NCR FastLane SelfServ Express Convertible lane provided Porter's the flexibility they were looking for.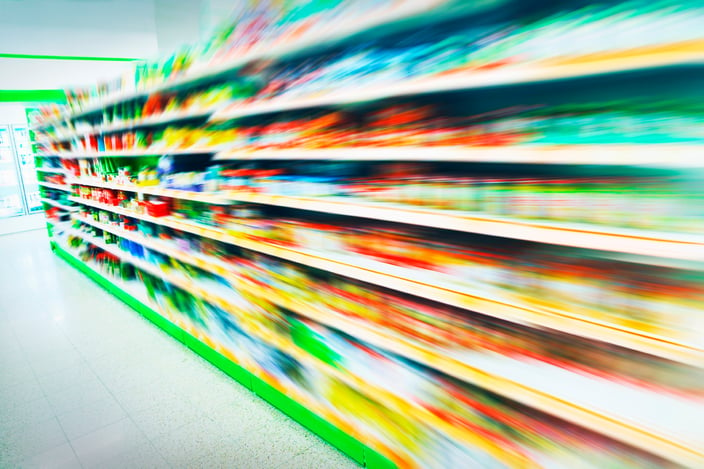 Within the same square footage, Porter's was able to replace one traditional point-of-sale lane with four self-service lanes. A once bottlenecked front-end, now optimized.
Porter's turned to TRUNO to execute the new solution. "We were really pleased with TRUNO's involvement. The self-service lane was one of Porter's most successful implementations." Once the systems were selected, TRUNO led the integration, setup and testing to ensure a smooth launch. After the systems were ready, TRUNO hosted training seminars for Porter's staff at the TRUNO training facility. This meant less in-store training, ultimately minimizing the disruption to customers during the transition.
Exceeding Expectations
A results-driven organization, Porter's compares sales figures on the self-service versus traditional point-of-sale lanes daily. "28% of our customers use the fast lanes. We are very pleased with this percentage – it is much higher than we anticipated," Trae said of the data. With a steady increase in traffic over time, customers using the self-service lanes found the experience intuitive.
Once skeptical of the customer experience self-service afforded, Trae now recommends, "Put your ambassador on self-service. It is an opportunity for them to reach out to 4x as many customers. They increase their touch by 300%. That's pretty remarkable."
With more than a quarter, some days up to 35%, of their customers using the self-service lanes, Porter's began to see their front-end traffic loosen up. Perhaps the most exciting results Porter's has seen are at the traditional point-of-sale lanes, which still account for 70% of their customer throughput.
- Increase in speed at the traditional lane by 25 seconds per customer.
- Basket size at traditional lanes increased by $5 on average.
The Porter's FastLane SelfServ Express Convertible point-of-sale solution enhanced their customer experience, seeing tangible results in increased throughput and basket size. We'd call that a success story.
"It's always a gamble – in this case, it was a very calculated gamble.
And, we knew we had complete confidence that TRUNO would do anything in their power to make things work."
- Trae Porter, Owner, Porter's Thriftway
Join us in your neighborhood - we are hitting the road with Self Service Checkout Expert, Chris Kardashian.
Click the button below to register and learn more:
About Porter's Thriftway
Porter's is an Andrews, Texas-Based Company that has been serving communities since 1945. Now operating 10 locations across Far West Texas, they have had one philosophy since the start – take care of people. With an average lane count of six, Porter's is an innovative leader in the independent market. For more visit, www.myporters.net .