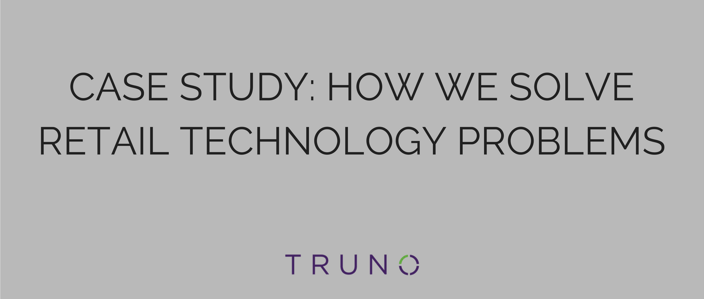 At TRUNO Retail Technology Solutions, we like to think of problems as being neither too big nor too small. It's all about partnership, and as your partner, we stand ready to help you resolve any technology issue that comes your way.
We've worked with a wide range of retail customers, including industry leaders who needed the kind of solutions we offer to help their business. Let's take a look at common frustrations our customers have faced over a variety of locations and store types and the way we've been able to solve their retail problems with drastic, efficient results.
Common Problems
1: The task of managing promotions within their day-to-day operations was becoming increasingly difficult for one business. They were using outdated point-of-sale software-as-a-service provider that was costly and was only able to manage 33% of their stores' promotions from a central location. To set up promotions at the store level at their remaining locations was costly regarding both financial resources and worker-hours.
2: Check-cashing processes that involved several steps and required management review to approve check-cashing requests plagued another business. The process took extra time, and customer lines grew along with wait times. Employees, meanwhile, were pulled away from more value-added activities to complete the check-cashing process.
3: Outdated POS technology meant that employees for one business had to record transactions manually, which was inconvenient for them and customers. The technology didn't fit with a system that uses smart cards to perform EBT.
TRUNO Retail Technology Solutions:
1: TRUNO addressed this issue with Enhanced Promotion Hosting software that eliminated inefficiencies and frustration.
2: TRUNO designed an interface solution for use between the check approval software and POS system. A more secure check cashing system was created that was faster and simpler for shoppers.
3: TRUNO implemented ISS45 POS software and retail-proven Fujitsu TeamPOS terminals at the all of the stores' checkout counters and customer service centers. This new system replaced what one manager described as an "antiquated" POS environment.
Real Results
1: By using TRUNO's centralized promotion solution, the weekly cost associated with the organization's previous program was eliminated. Moreover, their annual savings was $78,000, and they're now able to manage promotions for all locations through a single, centralized system.
2: TRUNO's solution helped its client develop an improved customer experience through, in part, showing customers how much they value their time.
3: Scanning speed was increased by 100% at all store locations while eliminating the downtime associated with the previous POS system. Additionally, the business now has printed records of all courtesy booth transactions, which helps resolve customer questions and disputes quickly.
Know the problem your business is up against? Contact us - we are ready to meet your needs.