Via Supermarket News – According to an updated Technomic study consumers, especially those aged 18-34, are purchasing retailservice prepared meal solutions more often.
In 2015, the Retailer Meal Solutions Consumer Trend Report found that eighty-four percent of consumers said they purchased retail meals at least once a month – up from seventy-nine percent in 2012. Supermarket fresh prepared meal solutions like salad or soup bars have made it an easy choice for consumers to bypass fast food restaurants and head to their nearest c-store or grocer. Sixty percent of millennials said they have visited fast food restaurants less often because they were buying retail prepared meals.
"Further enhancing the in-store experience and innovating with differentiated, restaurant-quality menu items will help retail-prepared food operators continue to steal share of stomach," Kelly Weikel, director of consumer insights at Technomic, said in a press release. (Follow Technomic on Twitter)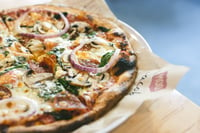 Grocers looking to capitalize on this growth should aim to offer millennials quick and easy meals that meet the popular health trend demands such as gluten free, GMO and organic. The turn from fast food restaurants to supermarket fresh prepared foods shows a promising future for the grocery industry.
Do you offer fresh prepared foods? Are you equipped for the upcoming nutritional regulations? Read more about the FDA Menu Labeling Rule.