TRUNO's Chief Products Officer Selected to Speak on Technology Innovation at the 2020 NGA Show in San Diego later this month.
The NGA Show is the only show created exclusively for the independent grocer and is presented by the National Grocers Association – it is the must-attend event for those who need to stay up-to-date on industry trends and best practices.
Innovation is the reason many retailers are headed to the NGA Show. No doubt, modern technologies such as eCommerce, Scan & Go, Loyalty and more will be buzzing on the NGA floor. But, how does an independent retailer make these solutions a reality within their operations?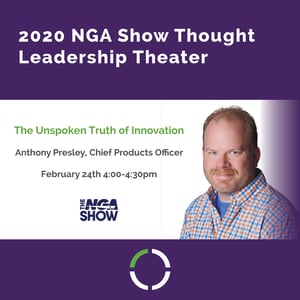 The unspoken truth of innovation is that in order for new technology to co-exist with our current operations -- we have to change the way we think about our systems. What goes into each system? What value comes out of each system? How would we want to modify the behavior of each system? How would these systems communicate with each other?
We need a bridge that enables systems to work seamlessly together. TRUNO's Anthony Presley will dive into these questions and discuss the challenges to consider in making innovation a reality.
TRUNO Empowers NGA Members, Making Innovative Technology a Reality at Booth 911.
In addition to the Thought Leadership Theater, TRUNO will be exhibiting at the 2020 NGA show. Booth 911 is designed to pull together the modern technologies of today and showcase them integrated into the industry's leading point of sale platforms.
Schedule a Tour of Booth 911 with TRUNO at the NGA Show and experience today's technology integrated on the NCR and Toshiba POS Systems:
Self-Checkout
Mobile Tablet Point of Sale
Operational Efficiency Software
Electronic Shelf Labels
Kitchen/Deli Self-Service Kiosk
And, More...