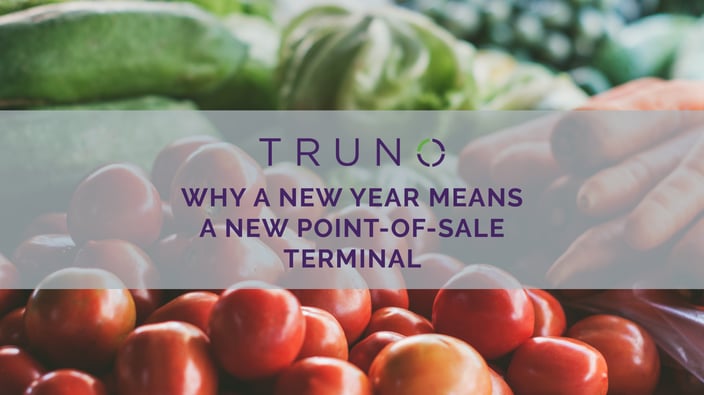 It's a New Year and, hopefully for your retail business, one filled with new goals and excitement for the year ahead.
It may also be time for a new Point-of-Sale terminal.
While implementing new technology can be a bit daunting at times – the alternative of running an outdated POS system that's slowing down your operation and missing key data about your customers is far from ideal. So, why not ring in the New Year with a new system that will pay long-term dividends?
Why now?
The POS system is the central nervous system of your business. That's one reason why it can be intimidating to replace it; it's a big step that involves something so crucial to your operation. And many single-store retailers still use a combination of manual methods, cash registers, and tools such as Excel for bookkeeping purposes. It's a method they may be comfortable with, but not one that's ideally suited for the future.
Moreover, there are plenty of POS options available. Choosing one that's best for your business is another challenge, but here are some things you should consider:
Flexibility - Make sure that the POS hardware you choose is compatible with other applications you're already using.
Speed - Your POS lane should be designed with speed in mind. Customer wait time influences customer loyalty, and if your current system is consistently too slow, it's negatively affecting your bottom line.
Support - Having a knowledgeable and consistent support team is important for most activities in your life. That certainly holds true in business, where having a support team and system you can count on is part of the lifeblood of your business. There will be times when troubleshooting is needed, and there's nothing more frustrating than having to wait – or be unable to contact – your support team. The best scenario possible is to purchase a POS system that comes with round-the-clock support for whenever a need arises.
Let's face it; there's nothing worse than watching your customers leave the store while you frantically seek support for a technology issue.
Keeping pace
The way customers shop is ever-evolving. Millennials are seeking a more mobile- and digital-friendly shopping experience. Self-checkout is a wave that continues to crest. Shoppers will choose stores that allow them to shop in ways that are more convenient and user-friendly to them.
Why TRUNO?
TRUNO offers POS solutions that will enable you to manage your business better on many levels and to keep pace with shoppers' evolving needs. We offer the two industry-leading POS software systems that include front-end sales and accountability systems. We also offer 24/7 support to make your store the best it can be, round the clock.
Our hardware is designed to provide a modern checkout lane with the latest equipment for efficiency and stability. Whether it's front end lanes, deli & bakery equipment, mobile checkout, and self-checkout, we offer the best solution if you're looking to replace your POS system in 2017.
Update your system now.