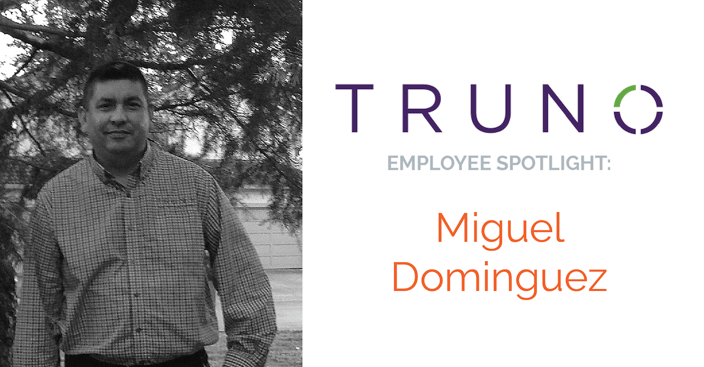 At TRUNO, we simply think we have the best employees around. Our nationwide team is comprised of industry experts in a variety of positions. Each individual, and their unique skill set, make a valuable impact in delivering retailers the most trusted technology solution.

Each month, we'd like to introduce a member of TeamTRUNO to you. Grab your cup of coffee and let's start with Miguel Domingues out of Northern California.

Miguel Dominguez is a Computer Field Tech II who supports ISS45 V8, Toshiba ACE and Windows 7 Software, repairs IBM, NCR, Epson, Fujitsu, and Verifone Hardware, and performs preventive maintenance on all stores in his area. He serves as the Acting Lead for Northern California Territory and contributes to his team however he can.

We asked Miguel to share more about his experience on TEAM TRUNO:
Tell US more about your work:
What events led you to where you are today?
I can't think of a single event, I can think of many opportunities I received by TRUNO and a lot of great people at TRUNO that trained and motivated me to be where I am today.
What is one moment that has stood out to you while working with us?
I have always experienced kindness from grocers - they often offer to buy me lunch and always treat me with respect. But one stands out: the story of the Fujimoto Family from Monterey Market in Berkeley, CA.
I understand as Japanese Americans they owned a farm prior to WWII, but were sent to a Japanese internment camp during the war. When they were released from the camp, they were able to rebuild the farm and start this well-known Market. As a minority, this has shown me the value of perseverance and that no matter how bleak things may look, they can only get better.
They had every reason to be mad and discouraged, but instead decided to forgive, be good citizens, and put all their effort into bringing some of the best produce to their community.
What kind of impact do you hope to have on people at TRUNO?
I hope to teach new employees what I know and show them the importance of good work ethic, proving that our customers can count on TRUNO to provide a solution to any of their technology needs. I want to teach others at TRUNO how to treat our customers the best by providing the best service possible.
For example, it is nice to hear that one of our local grocers in my area chose TRUNO over the competition. The grocer chose TRUNO because of our service and in their words "they treat us how we want to be treated." That shows the positive impact we can have on our customers.

If you could tell the people one thing about TRUNO, what would it be?
It's a good company to work for with plenty of growth opportunity.

What's your favorite product or solution we provide?
TRUNO provides great solutions but the service department is my favorite.
T

ell us a little about your family:
I met my wife Alba in 1991 married for over 25 years and counting. We have two girls, Melina (18 years old) and Eliana (13 years old). My mom and one sister and one brother, and I lost my Dad to cancer around thanksgiving last year.
I enjoy living in Sonoma County (CA), as it is wine country and a beautiful place to live. Everything is close by, and everything is good here. I enjoy spending time with my family, no matter what we're doing. I am a firm believer in Christ so church is very important to me.
If you could learn to do anything, what would it be?
Provided funds were not an issue, I would aim to help the poor and homeless - not only with a hot and shelter meal but to find a way out of that situation. I don't think anybody enjoys living in the street and I think our government and churches should step up and do more to help them.
If you were to tell one person "Thank You" for helping you become the person you are today, who would it be and what did they do?
Jesus Christ is that person, undoubtedly. In addition, I have been through a lot in my life. At 3 my Dad left for the United States in search for a better life, at 6 my mom left for the United States to meet up with him. My 12 year old sister was in left to take care of my brother 8 and myself at 6. She has influenced my life greatly. Together, we bounced around family members' homes for a few years, then made it to the U.S. at 8.
At 12 years old, my older sister and I were deported to Tijuana - without money or family. Soon after, we made it to our hometown and worked on a farm for 6 months. At this point, U.S. Immigration realized their mistake of deporting a minor with a permit to live in the U.S., granting me a green card. I continued school. I didn't like high school, so I tested out to earn my diploma and begin work, starting in construction and other manual labor jobs.
To go through all of that to where God has me know, how can I not be thankful? He took me from straight Ds in high school to Deans List, Honors, and a straight A student in college. From having one of my manufacturing supervisors say, "you can never learn computers they are too hard for you" to a year later replacing the motherboard on their engineer's laptop - I cannot thank him enough.
I can truly say God has been good to me, and I thank Jesus for that.
Get more information on Team TRUNO.