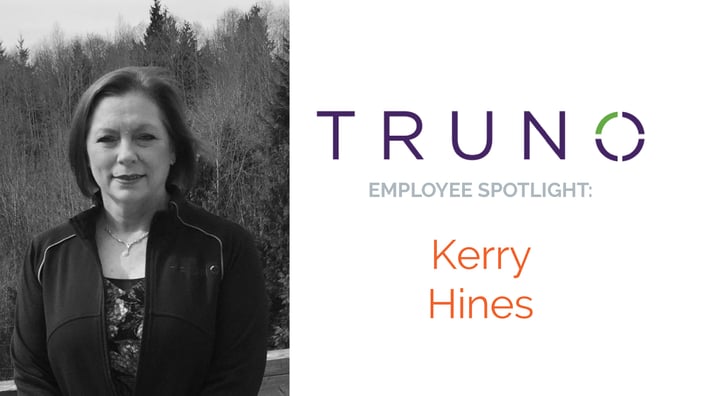 TRUNO is a family, and our employees are the core of that family. Our team spans from coast to coast, and each team member brings honesty, integrity, and amazing talent to work with them each day. Together, we're glad to be the trusted technology provider our customers can rely on!
Our next TeamTRUNO highlight is all about Kerry Hines.
Kerry Hines is a Sales Executive for our Oregon, Washington, and Alaska territories where she's focused on developing new business in the Northwest. As an Ishida Product Specialist, she assists her team with installation, implementation, and support. She's been on the team since December 2015.
Do you have a fresh cup of coffee? Great! Then it's time to learn more about Kerry:
TELL US MORE ABOUT YOUR WORK:
What events led you to where you are today?
It all started when I began working as a receptionist at a scale company in Hawaii. What began as answering phone calls and assisting in accounting duties led into repairing scales, both mechanical and electronic. I grew in my expertise and skill and became the Sales Manager. I began to pursue similar work in California where I worked with retail scales and software and POS technology, but was still seeking to work with a company that offered the best solutions available.
I met Pat Huston at a Unified Expo and knew several Northern California members of TeamTRUNO, and I jumped at the opportunity to work with them. In my first TRUNO Sales meeting, I knew I'd found my home! TRUNO's "Do What's Best for the Customer" attitude is the heart of what I believe and have always practiced.
What is one moment that has stood out to you while working with us?
It is really hard to pick one moment - I have had so many "WOW" moments since joining this team/family! The "we will do whatever it takes" attitude of our whole team goes far and beyond anything I have ever experienced. From Dispatch to Technician, Installer to Trainer, Purchasing to AR, encountering so many team members who are willing to drop everything to make things right for the customer is simply amazing to behold.
What's your favorite product or solution we provide?
I am most familiar with Ishida Scale & Wrappers, so those are probably my favorite products. Yet we have so many solutions! By far the product I am most impressed with is the i3 International camera systems; I had no idea that a camera system could be so versatile.
What kind of impact do you hope to have on people at TRUNO?
I hope to impart some of the years of knowledge I have gained through various experiences to help my fellow TeamTRUNO members grow into this new market. I want to work hard to make TRUNO the #1 company in Scales & Wrappers knowledge.
If you could tell the people one thing about TRUNO, what would it be?
I want others to know that TRUNO truly wants to become your Technology Partner to solve ANY and ALL of your retail problems. The bigger the problem the better! We can help.
TELL US A LITTLE ABOUT YOUR FAMILY:
My husband and best friend of 41 years, David Hines, is Hawaiian. We enjoy our life in Western Washington with four Queensland Heelers, nine goats - yes, nine! - eleven chickens, and one horse. We have three sons (Kawika, Kalama, and Punahele) and three grandchildren. We love the people and the environment of Washington!
What is your favorite thing about where you live?
So many simple pleasures of life: I love gardening, training my dogs, grooming my horse, watching my grandchildren play sports, canning, crotching - we enjoy living in Centralia, Washington.
On the weekends, we often make a point to stop by the Olympic Club, a historical theater/restaurant/ bar combo. Every Sunday, they open the theater for Seahawk fans and play the game on the big screen at no charge - we love getting a drink and enjoying an afternoon watching football!
If you were to tell one person "Thank You" for helping you become the person you are today, who would it be and what did they do?
I would want to say a special thank you to Jack Young, the original owner of Young Scale Co. and the first scale company I worked for. He taught me that every customer, no matter what they need or want, should be treated the same as the customer who makes a large purchase. He taught me how to look at a problem from several angles to find a solution that in the best interest of the customer. I use both of these skills regularly, and I thank him for teaching me the importance of that work.
We are proud of our TeamTRUNO employees and we're honored to consider them family.
Learn more about TeamTRUNO.