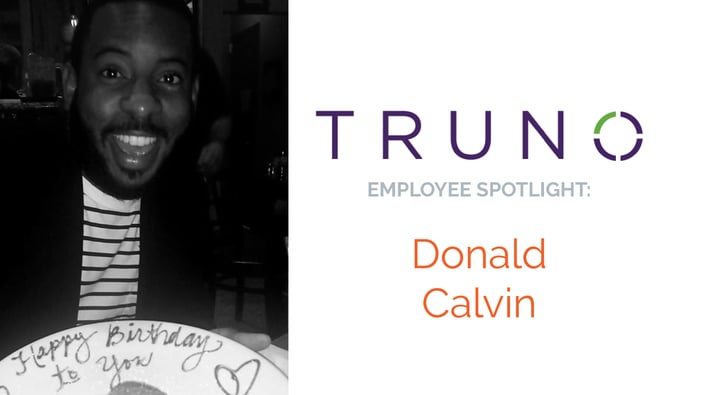 The TRUNO family is comprised of a number of employees working hard on Solutions that benefit our customers. TeamTRUNO is brilliant - we have engineers, technicians, administrators, support staff, and more who work every day to bring the best innovations and support to the retail marketplace.
Donald Calvin is a member of TeamTRUNO, and we're proud to have him as part of the family.
As a Junior Developer with TimeForge, Donald Calvin lives in Lubbock, TX and has worked under the TRUNO name for six months. His work involves software/hardware integration, technical troubleshooting, and testing & deploying new fixes.
Settle in for coffee break and let's hear from this native Texan on his experience with TRUNO:
TELL US MORE ABOUT YOUR WORK:
What events led you to where you are today?
I'm from Houston, TX and started my time in Lubbock for college at Texas Tech University in 2007. As I was finishing up school in 2012, I met Anthony Presley, co-founder of TimeForge, at an office party at Main Event. I started working for TimeForge soon after and have spent the last four years as a developer for their labor management technology. Since TRUNO's acquisition of TimeForge in Fall 2016, I have been able to work on furthering our human capital management offerings to our TRUNO customers.
What is one moment that has stood out to you while working with us?
It's hard to pick out one moment that stands out – instead I would say the environment of this company stands out to me the most. One of the best thing about TRUNO is the community that the employees have created to make everyone feel welcome. The atmosphere here is always positive and you feel like you can be yourself.
What's your favorite product or solution we provide?
I'd have to go with the biometric timeclocks, a solution we offer companies interested in Human Capital Management. These systems have advanced in amazing ways. I've spent a lot of my professional time working with biometric timeclocks, and it's been awesome to see it see it change so much over the years.
What kind of impact do you hope to have on people at TRUNO?
I want to give everyone a sense of peace in the office. There can be days when it seems like everything is breaking and the world is on fire. During these hectic times, you can almost watch the stress levels rise. I want to be the calm in the storm whenever I can in order to benefit others and the overall office environment. I have found that a positive and peaceful office atmosphere improves the mood of the office, and in turn, improves performance.
If you could tell the people one thing about TRUNO, what would it be?
There will be good times and some bad times in life no matter what. But you won't find a better community of people to surround yourself with than the community you find here at TRUNO.
TELL US A LITTLE ABOUT YOUR FAMILY:
I was born and raised in Houston, TX and moved out to Lubbock in 2007 to attend Texas Tech. I'm the middle child of three boys. I am also a newlywed, as I recently married my beautiful wife in August 2016!
One of my favorite hobbies is sleeping – I am not ashamed to say that. Anytime I can take a good nap is always a good time! I also enjoy anything that can get me moving, like playing basketball or tennis, reading, playing games, and exercising.
I have a future goal for myself to learn how to fly a plane, and I would love to take that up as a hobby some day. Aviation is so interesting, and I think it would be amazing to pilot a small plane and see the world from so high up.
What is your favorite thing about where you live?
In Houston, I loved the amount of activities you have access to in a big city; there's always something to do and something going on, meaning you're always entertained. However, the traffic in Houston is horrible. In comparison, this is one of the things I love about Lubbock, where I now live. The traffic is almost non existent and takes no more than 15 minutes to get across town. I also love the weather here in Lubbock. I had never seen snow before living here so it was definitely a welcome change!
I admire the motivation and drive that people have in Houston, seeing young professionals work hard towards their goals really motivates me. Here in Lubbock, I admire the friendliness. Everyone is always so cheerful and it always puts a smile on my face.
If you were to tell one person "Thank You" for helping you become the person you are today, who would it be and what did they do?
I would tell my older brother thank you – he has really guided me and help me become the man I am today. I'm able to talk to him about anything and he has always helped me when I find myself with my back against a wall. I truly appreciate him.
We are proud of our TeamTRUNO family and honored by the way they serve our customers.
Learn more about TeamTRUNO.