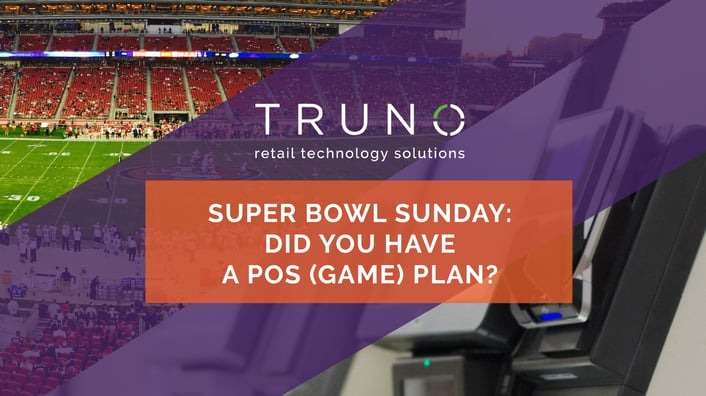 Another Super Bowl has come and gone and with it so has all the hype, fun, and crazy emotions that are a part of it – especially if your favorite team was lucky enough to compete for the championship.
As a grocer or owner of another retail-based business, you undoubtedly enjoyed the sudden spike in sales that comes with Super Bowl Sunday. The National Retail Federation estimates that the average viewer annually spends around $80 (and more) on the Super Bowl, which includes game-day food, athletic wear, and more.
But whether it was pizza, chips, dip, hot wings, and beer for a game day party, your store had a great opportunity for increased sales. You also had the chance to
score points with Millennials
, who spend more than average on Super Bowl weekend.
The question is, were you able to capitalize on it? As you take the time to reflect, assess how your Super Bowl Sunday prep, inventory management, checkout processes, etc., could have been better for you and your customers. With people flooding your aisles to prepare themselves for Super Bowl fun, how ready were you?
Perhaps more specifically, how ready was your Point of Sale System (POS) for game day? How efficient was it in handling different sales patterns or problems? Was your current POS system worthy of being in the starting lineup, or is it time to think about a replacement?
How a New POS System Can Help
Having an updated POS system brings with it several advantages, including that you'll be able to handle major sales opportunities such as Super Bowl weekend. A Chicago Tribune report said that a primary reason many small businesses fail is that they don't have an infrastructure in place that can support growth. Effective POS hardware & software can handle as many stores and transactions as you want, enabling you to keep pace with the growth of your business.
There are many other advantages to having an up-to-date POS system:
It can let you know exactly when an item is at the re-order point. Some systems allow you to track your inventory from year to year. The bottom line is that a good POS system will let you track and assess your inventory easily and effectively.

A good POS system will let you know who your best customers are and what they like.

A

TRUNO-designed POS lane

has speed in mind. Long customer wait time, especially during busy periods such as Super Bowl weekend, is crucial and can result in customer loyalty loss.

An updated POS system allows you to gain more insight into your sales across all sales points. You're better able to make accurate assumptions on inventory popularity and sales.

Modern POS software includes customer-friendly features such as e-receipts and mobile payment options that help create a better in-store experience while allowing you to capitalize on technology to strengthen your store's bottom line.

Mobile & tablet checkout

POS hardware systems can move lines quickly for the customers who stopped in for only a couple items.
With another Super Bowl behind us, now is the perfect time to assess your POS game plan and whether it measured up during the big "game" and if it's ready for the next one (psst: next Super Bowl is slotted for February 4, 2018). If your system didn't quite pass the test, it's time to check out today's updated, integrated technology solutions.