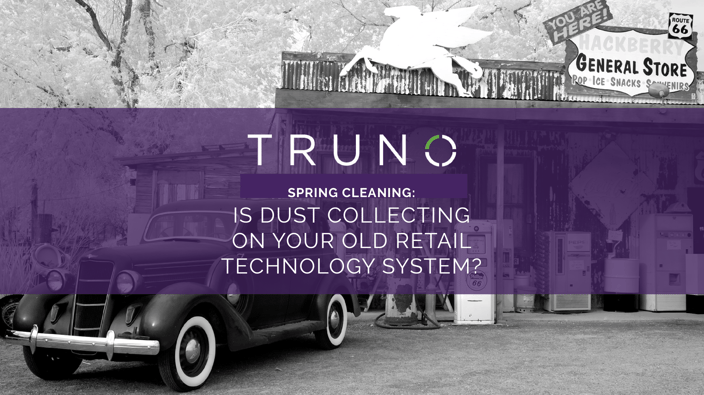 It's easy to get comfortable with something we've had for a long time. A favorite chair. A car. A shirt.
But if the chair is sprouting springs, the car is in the shop every month for repairs, and the shirt has become more than a little threadbare, then it's time to consider something new.
The same is true of your store's technology system. You may have had it for several years – and you're comfortable with it – but is it still meeting your needs? Chances are, it's outdated and more trouble than it's worth, including when it comes to your store's bottom line.
In short, it may be time for a bit of technology spring cleaning.
How do I know if my store's technology is outdated?
Great question. And some issues may be more obvious than others. But here are some things to consider:
Is your checkout slow?
Your checkout can either ensure that your customer had a great shopping experience, or whether they may consider shopping somewhere else. A slow checkout line with long payment transactions is an annoyance to everyone, especially your customer.
Limited payment acceptance
More and more customers are shopping and paying with devices such as their mobile phone. If your system can't accept these new types of payments, it's probably time for a new POS system.
Is your technology a drain on resources?
A new retail technology system will allow you to use your workforce in better ways instead of needing extra bodies to keep an outdated system running smoothly.
Is my store's brand reputation at risk?
Many of today's customers – especially millennials – like the ease and convenience of new technology. If your store's technology is seen as archaic, it gives your brand a bad name and is impetus enough for your customers to choose another store.
Is it manual?
Let's face it, in today's retail world few things are – or should be – done manually. Manual processes are almost always slower, more difficult to manage, and mistake-prone.
Does it come with good support?
If your technology's support system is only available from 9 to 5, then it's probably time for a change. The fact is, your business never rests, and you need support that's available 24/7. That way, you can rest easy at night.
What do I do about old systems?
There's not much point in keeping older systems around. They're difficult to maintain, and it signifies a reluctance to change for many of your customers.
What's the next step?
TRUNO offers retail technology solutions that will enable you to manage your business better on many levels and to keep pace with shoppers' evolving needs. We offer the two industry-leading POS software systems that include front-end sales and accountability systems. We also offer 24/7 support to make your store the best it can be, round the clock.
Get the most out of your store's scales. Learn more: