What happens in Vegas…
Truno is looking forward to attending and exhibiting at the upcoming NGA Show in Las Vegas on February 8th-11th.
With industry hot topics such as mobile applications, EMV, and Big Data on the schedule, there is sure to be a lot of buzz about technology and it's applications for the future. The Truno booth will house conversations for both ACE and ISS45 users alike with both systems set up for demo.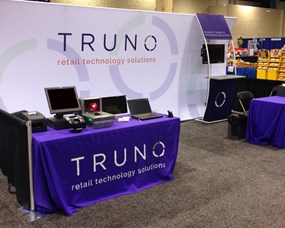 After attending the Future of Payments – Preparing for EMV and Mobile concurrent workshop, you will want to stop by Truno to see the new 9800i scanner set up and integrated into your POS – with shopper facing scanner capabilities, it is ready for the future of mobile shoppers. Speaking of EMV, the time for its implementation is now. At Truno, we understand that along with increased security for your valued customers EMV brings uncertainty and potential expense for the independent grocer. Truno can help navigate through your concerns so that you are confident knowing your technology is taking care of your customers and compliant.
Big Data and Business Intelligence are topics on the agenda at the NGA show this year with sessions such as Aggregating Shopper Data – Using POS Data for Marketing and Operations. The thing is, the data to elevate your marketing decisions is already there – you just have to unlock it. With partners such as TimeForge, Truno is able to make the connection through technology to your point of sale data so that you have the tools to make the decisions you need. The new TimeForge beacon software will be on demo at the Truno booth. The TimeForge beacons allow you to directly connect where your customers and employees are within your store in real time. When you link that with your sales data, suddenly smart decisions are possible.
Other highlights at the Truno booth include the new TruBalance software that allows for easy management of your store balances. Simple in design, this Truno developed turns your end of day processes into a streamlined, web based system. Stop by to learn how you can put down the pen and paper, and begin balancing with efficiency and accuracy.
We are looking forward to joining industry leaders and grocers from across the country in Vegas on February 8th. Instead of jumping around to 20 different technology booths, maximize your time and visit Truno. We are today's technology partner capable of smart integration throughout the entire grocery store with to lead you into the future.
Because everyone scans groceries, but does everyone TRUNO? Come see us at Booth #1103.