TRUNO Wishes a Happy Retirement to Sandra Fuller
Today, TRUNO wishes a happy retirement to Sandra Fuller, co-founder of TRUNO. Sandra and her husband, Curtis, started Cash Register Services back in 1978.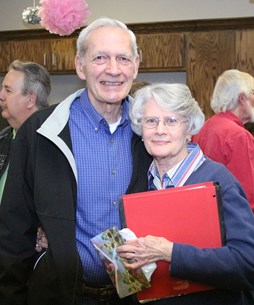 Through the years, Sandra has seen the company evolve from a West Texas grocery point-of-sale provider, into the national leader in integrated technology solutions for the retail industry. Since 1978, the company has experienced many changes; a change in ownership, expansion in our geographic reach to both coasts and in between, a growth in employees to exceed 200, countless releases of new products and services, and the rebranding of the company in 2014. Sandra has remained a constant, providing a smile and a hug for everyone along the way.
Sandra has been the heart of the company since its inception and continued the family-led environment that makes TRUNO a unique company to work for. Her work ethic and humble attitude has set the standard for all TRUNO employees. We will continue to strive to carry on her and her family's legacy, remembering the bricks that laid the foundation for the success of the company today.
TRUNO celebrated Sandra's career on Monday, February 16th with breakfast, cake, her favorite flowers, and a book comprised of notes and cards from all the employees. The room was full of love and laughter in celebration of Sandra and a job well done. We wish Sandra health and happiness in her retirement.