NCR's 2015 Synergy Conference: "Inspired Commerce"
TRUNO leaders gathered at Walt Disney's Swan and Dolphin Resort on June 22nd – 25th to attend NCR's 2015 Synergy Conference: Inspired Commerce. Focused on NCR's retail industry solutions, the event featured technology of today and tomorrow to inspire ideas, innovation, and best practices.

Tuesday's kickoff general session provided a bright forecast into the future with NCR and retail technology. One highlight of the morning was the announcement of NCR's Retail One platform. NCR Retail One is a cloud-based, innovative commerce hub that will allow retailers to better address omnichannel requirements and position themselves for success in the new era of the Internet of Things. The concept of Retail One elevates the opportunity for TRUNO to develop software solutions that effectively interface with the NCR point of sale and other third party devices.
Synergy boasted two full days of breakout sessions on topics such as EMV, Retail One, self-service checkouts, Power HQ, and more. With multiple sessions on payment security and EMV, the conversation buzz between retailers and vendors alike centered on security and it's future. NCR's expert Ken Harris, General Manager of Global Payments, led the discussion on EMV and the knowledge necessary for retailers to be ready. Overall, the concern remains in the consumers' awareness of the upcoming technology and what it means for their front-end experience. A panel of selected retailers led several breakout sessions. This format allowed retailers to learn and discuss directly with their peers. TRUNO's Director of Back Office Operations, Jared Black, was selected to speak as a panel expert during RTI's session on sign and label solutions. As a former retailer, now turned channel partner, Jared was able to provide a unique perspective for attendees.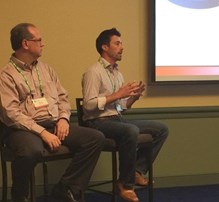 In addition to informative breakout sessions, attendees were able to experience the technology featured during Synergy's exhibit hall, which hosted over 40 vendors. TRUNO Sales Executive, Chris Woods, was "impressed with the future-ready features and capabilities of NCR's 7879 Scanner Scale" on display for demo. The exhibit hall also provided the venue for networking during social hours each evening. "Networking and establishing relationships has always been a great benefit of attending Synergy," Jared Black said of the conference. "Additionally, seeing new technologies and the forecast for the future of NCR's products is both valuable and exciting."
Synergy concluded on a high note with special guest Mario Andretti, Legendary Race Car Driver. In a Q&A session moderated by NCR's Michael Bayer, SVP and President Retail Solutions Division, Mario sat down to discuss his life on and off the race track. His message was one of hard work and determination. Famous for the quote, "If everything seems under control, you're just not going fast enough," Mario underlined maintaining a passion for success in your career.
NCR's 2015 Synergy provided a platform for retail technology thought leadership, and left us heading home from Orlando feeling inspired.