TRUNO announces January 2015 release of the TRUNO mobile app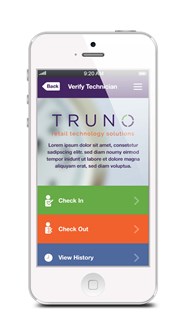 With features designed to provide increased security and convenience, the TRUNO app allows customers to access TRUNO straight from their smartphone.
The app's key feature includes service technician verification through a QR bar code located on the TRUNO employee's id badge. The scan will provide validation of the TRUNO employee or alert an error message with instructions on necessary steps to address the concern. A validated employee then becomes "checked in" and associated with that store location which can be tracked and viewed in a history log. Upon check out of the TRUNO employee, the customer has the option to complete a performance review."We understand the importance of knowing who is in your store and for how long. Working on your secure data and technology means it is important to hold us accountable. This app is in direct line with that mission." TRUNO President, Steven Watters, stated of the app.
Additionally, the app allows customers to access their TRUNO portal to view and submit service tickets, contact TRUNO with one click, and order supplies directly from their mobile device.
Developed for both Apple and Android users, the app is set to launch Winter 2015.