TRUNO Respected Leader Selected to Manage Nationwide Service Team
Effective April 8th, David Price was appointed TRUNO's newest National Service Manager. The decision to place David in charge of the direction of TRUNO's national service team was a no-brainer. David has been with TRUNO since 2006, excelling in various positions such as Senior Field Service Technician and Lubbock Service Manager. David has served as one of TRUNO's most valuable teachers – training new technicians directly in the field. Prior to joining Team TRUNO, David gained field experience as a POS and Payment Systems technician with Furr's Supermarkets and Malloy's Cash Registers.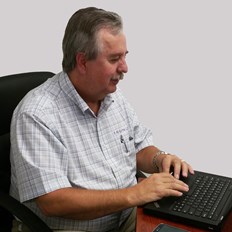 Besides being a seasoned expert in grocery technology, what sets David apart as a leader among many is the level of respect his team members hold for him. A former member of the military, David is a true leader by example, "David won't ask you to do anything he hasn't done himself," Rodney Moore says of David. "David takes his job very seriously. Taking care of his customers is his number one priority and he expects nothing less from his team."
"Our service team is simply like no other," David said of the 124 member national team. "We don't just sell concepts to our customers, we believe in those same concepts." With a passion for serving customers, David sets out to develop the relationship between technicians and their grocery stores. "All TRUNO technicians take personal ownership of their assigned stores. We want each customer to be excited to see us in their store." David encourages his team members to continuously seek out learning opportunities and ways to better service grocers. Providing more opportunities for ongoing training and maintaining a high level of preparedness are just two of the goals set by David for the service team.
TRUNO would like to congratulate David Price on his new role as National Service Manager. David will no doubt do an outstanding job of leading our regional service managers and their teams as they continue to serve our 3,000+ customers, nationwide.