We know Grocery is the most complex sector of retail. Weighing produce and meats, managing out of stocks, and reacting to price changes across an inventory that often includes well over 30,000 items is challenging. Layer in an unprecedented year like 2020 – and retailers are juggling the same operational challenges but with an overnight increase in sales and complete paradigm shift in consumer behaviors. To meet these consumer behaviors retailers are implementing new technology.
The greatest pain point in adopting these new technologies is data delivery of vital information to the existing point of sale and back office systems. IT and Operations managers must look at how new solutions such as eCommerce, scan & go, and loyalty will integrate with their existing systems.
This pain point is the problem TruCommerce was built to solve. TruCommerce bridges modern retail technology platforms, POS, and back office solutions by delivering data between them using a standard API.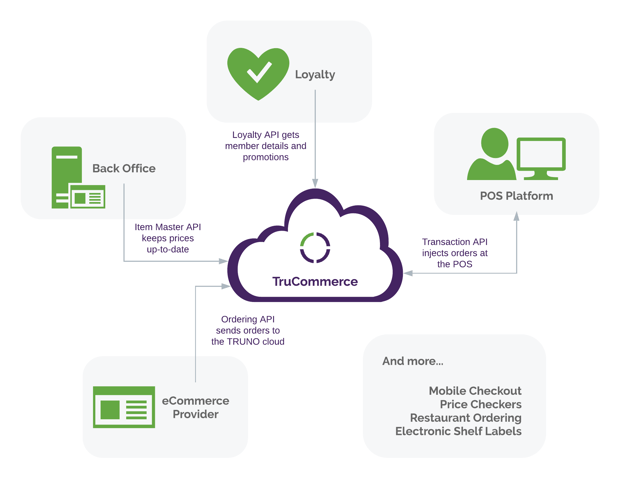 Sounds pretty great. But what does taking advantage of the TruCommerce middleware really look like inside your operations? And why is it vital for an innovative future?
Online grocery sales grew 53% in the US during 2020. What does life look like inside your operations every time a consumer clicks checkout? Most likely the order triggers a series of inefficient processes that negatively impact your customer experience and labor spend.
"Our eCommerce orders increased by 10x in 2020, and we don't see that slowing down. Manual entry of orders into the POS is becoming costly and disruptive."
If your eCommerce provider isn't properly integrated with your existing point of sale system, every online order picked will require manual transaction at the front end. Any price or item discrepancies must then be reconciled from the transaction at the POS to the online order. Fragmented systems and manual processes are a surefire path for margins to quickly slip away.
With TruCommerce, data is automatically injected from the order to the point of sale through an open API. This eliminates the need for the items to be scanned at the front end by a second team member. At just $6 per day, the TruCommerce bridge provides an almost immediate return from eliminating labor cost and improved throughput in store. Furthermore, the item master API can be utilized by the eCommerce provider to minimize price and item discrepancy.
Studies show that the increase in online shopping has made consumers less loyal to their preferred grocery store. The most forward-thinking retailers recognize that marketing and loyalty strategies will be key in delighting shoppers as they continue to latch onto new ways to shop for groceries.
"Our loyalty data does not sync seamlessly into the point of sale. Which means our company can't take full advantage of the personalized marketing and loyalty platforms we've invested in." 
These data driven marketing platforms become most effective at creating personalized shopping experiences when transactional data is made available to them.
TruCommerce is able to extract the member profile data through the Loyalty API and make it available at the point of sale in a meaningful way. This connection allows a more complete historical transaction view of the member in order to analyze and leverage the marketing software's campaigns and promotion tools.
As the consumer market drives more and more innovation in grocery, all-in-one technology certainly starts to sound appealing. Think of the illusive all-in-one washer dryer appliance. If all-in-one washer dryer appliances really worked well – they'd be the ultimate solution. The truth is, drying clothes takes almost double the time. Any potential convenience is eliminated when the required functionality isn't met.
"I'm not interested in an all-in-one technology platform that over promises. I need to take advantage of our current investments and find a way to work in new technologies."
In the real world of grocery retail, the complexities of operations make meeting functionality requirements exceptionally challenging. As we've already discussed, today's retailers are looking to add in eCommerce, mobile shopping, digital coupons, loyalty, and more. And, while an all-in-one solution might be successful at one or more of these functions – we've yet to find one that is built to excel at them all in grocery.
Just about every grocery retailer has custom parameters, settings, or configurations added to their point of sale and back office systems. More often than not, these customizations are invaluable in how the stores operate. To adopt a whole new system or integrate a technology that does not take advantage of the customizations can be costly beyond measure to store operations.
Build the bridge to technology freedom on the TruCommerce platform.
TruCommerce sets retailers up for technology freedom within their current infrastructure.  The middleware allows your existing systems to work seamlessly with many new technologies in the market through open API's. This enables the benefit of a web services platform, while taking advantage of your existing systems. TruCommerce provides the vehicle for your existing infrastructure to advance into a future where innovation becomes quick and pain-free.