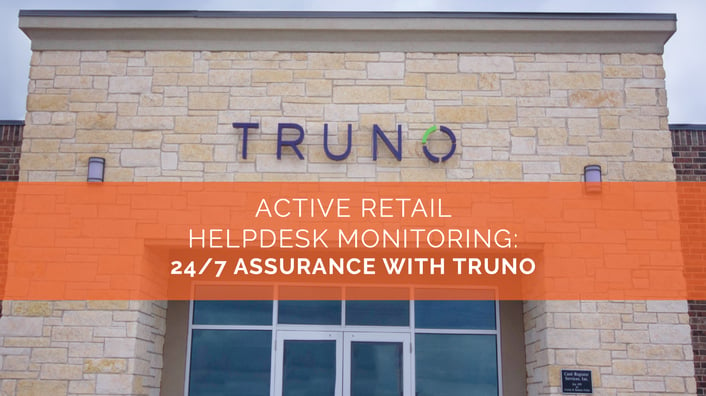 Imagine a help desk system that works while you sleep and monitors your store's systems even when you can't monitor them yourself.
While it may sound too good to be true, TRUNO's 24/7 Support Center makes it happen with an active help desk that keeps your system healthy and running smoothly – even when you've left work behind and are unwinding after a busy day (or in the middle of a dead sleep).
How Does it Work?
TRUNO's Active Retail Help Desk monitoring system is truly one-of-a-kind. It offers 24/7 support that monitors the networks and functionality of your store. It's constantly checking your systems and how they function but also thinking a step ahead to continually offer you the best, integrated solution to your retail systems.
TRUNO's 24/7 support monitors for common but annoying account problems that can arise for a variety of reasons (even the malicious ones). Malfunctions can include power outages, human error, malware, software errors, and much more. But more than that, it also fixes the problem for you and then lets you know that it's resolved and your system is running smoothly, well before you wake up. You and your store's managers are free to focus on other parts of running a business (or finally getting a good night's sleep) while not stressing over any problems with your store's technology.
The Active Retail Helpdesk monitoring also ensures that all EOD (End of the Day) processes are completed. As you may have experienced, if your EOD doesn't complete, your store may not be ready or systems may become unbalanced and unusable.
24/7 Means 24/7
There is no "down" time for TRUNO's Active Retail Help Desk system. It's constantly checking systems to see how they're functioning and if they can be running better.
"This constant reviewing of our customers' systems helps us fix issues before they become problems," said Paul Willoughby, TRUNO Chief Operating Officer.
The TRUNO support system now serves over 2000 stores across the nation with Active Help Desk Monitoring in addition to its standard support services: an expansive network, a bi-lingual staff, training and installation, complete performance guarantee, POS consulting, and more.
Partnering With Clients
TRUNO invests in people to best partner with its customers. That means TRUNO will always invest in experienced people monitoring problems and fixing issues that could be costly to your store. That's why TRUNO's Active Help Desk is serving our customers in a way no other retail technology provider can offer.
"We're focused on our customers' best interests," added Willoughby. "We say it, and we act on it."
Get Started Using TRUNO's Active Help Desk Monitoring Today!