A Job Well Done: Congratulations to Barney Blount of Claiborne's
Truno would like to congratulate Barney Blount of Claiborne's on his well-deserved recent retirement. Barney enjoyed a rewarding career that started in 1963 as a grocery sacker for Piggly Wiggly in Amarillo, Texas. Just eight years later, at the age of twenty-four, he became the youngest store manager. After his work at Piggly Wiggly, he went on to become a vendor with Crown Zellerbach and then on to United Grocery, where he worked from 1974-1979. After a short time with Hostess Cakes and then on to the Warehouse in Amarillo, he moved to Claiborne's on August 7, 1985. There he went from store manager to the general manger of three successful grocery locations. Barney experienced the grocery business from just about every angle and was always happiest when he was in the stores. He ended his long, successful career at Claiborne's on February 27th, 2015.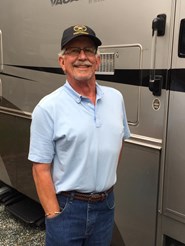 Barney had one of the best understandings of a grocery store, while also understanding the systems he had in place. This gave him the innate ability to direct questions and responses, which greatly helped everyone he worked with. Barney expected perfection and because of that he pushed those he worked with to become better every day. Every interaction was an opportunity for Truno to become better as a company. "He didn't just scan groceries, he used every facet of his systems which allowed us the opportunity to show off everything we had from a solutions stand point," Steven Watters said of Barney. "He was a great asset to our company".
In his retirement, Barney looks forward to traveling and seeing as much as the United States as possible, along with getting to spend more time with his family. His expertise and love for the grocery industry will be greatly missed by all. Truno would like to thank Barney for his many years of service and wish him health, happiness and safe travels in his retirement.