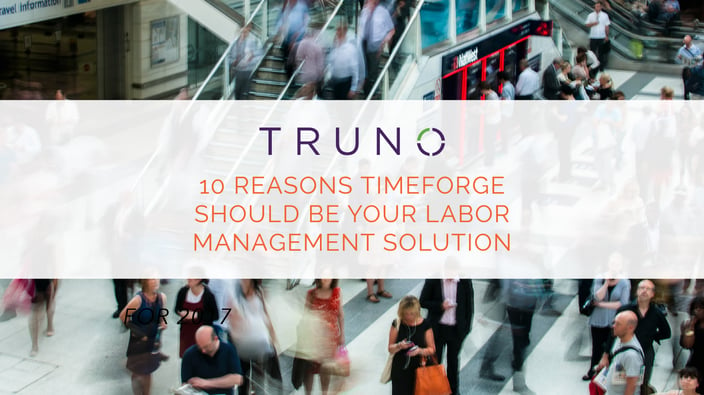 In an ever-changing world of healthcare compliance and other concerns, labor management has become an increasingly bigger challenge for grocery store owners and other retailers. Managing full-time and part-time employees has become more labor-intensive and, in many ways, more burdensome.
If your store is using an outdated labor management process for scheduling, payroll, organizing paperwork and documents, and more, then a New Year is a great time to switch to a new system. At TRUNO, we've partnered with TimeForge, the retail industry leader in labor management software, to provide you with an easy, centralized, and efficient solution.
Founded in 2004, TimeForge is guaranteed to simplify the challenging and often error-prone process of employee scheduling and labor management. Why should you switch to TimeForge? Let's take a look at some of the reasons:
Painless Scheduling


With TimeForge's patented AutoScheduler, scheduling can be done in a matter of seconds. The AutoScheduler uses a forecasting engine to make the process as painless and quick as possible. You'll schedule in a way that reduces labor costs and increases profits.

One-Click Payroll


Payroll costs are recorded by date, employee, and position, and can be easily exported to popular payroll programs.

Reduce Employee Turnover


As a retail manager, you understand the difficulty of managing employee schedule requests and changes in employee availability. TimeForge scheduling manages all of that for you, and any changes appear automatically on all schedules. You'll have a better handle on things while making sure that employee requests don't get lost in the shuffle.

Track Meal Periods


Keeping track of paid and unpaid breaks manually is another pain for retail and restaurant managers. With TimeForge, you can easily schedule breaks and meal periods.

Manage Employee Leave


With TimeForge, you're automatically able to calculate paid time off, sick leave, vacation time, and other eligible leave based on your guidelines.

Organize Your Daily Log


Your daily log can be easily organized according to the way you work. Moreover, it's Internet-enabled and can be accessed and reviewed from anywhere – even if you're out of town or out of state.

Upload Documents


From pictures to HR documents, to training schedules and staff reviews, all can be uploaded and made available to management or staff members.

No More Excel


Tired of cumbersome Excel spreadsheets? You're not alone. With TimeForge, you'll quit the Excel habit and no longer have to use pen-and-paper methods, spiral notebooks, printed e-mails, and sticky notes. In words, you'll no longer be wasting time and money on outdated methods of labor management.

Receive Alerts


Each supervisor and manager account includes multiple alerts. Utilizing just one of those alerts will save you time and money.

Never Search For Paperwork


Like many retail managers, you've probably been there, i.e., searching for documents such as resumes, I-9 and W-4 documents, payroll documentation, insurance forms, etc. With TimeForge, you can easily upload and store them, and know where to find them when you need them.
Ready to simplify your labor management? Get started with TimeForge today.