Many gathered in Lubbock, TX for the second annual Client Conference, making the event an overall success.
FOR IMMEDIATE RELEASE:
LUBBOCK, TX, November 7, 2014 – More than 150 grocers, technology professionals and employees gathered in Lubbock, TX to join TRUNO, Retail Technology Solutions (TRUNO), in celebrating its second annual Client Conference at the Overton Hotel and Conference Center October 28-30, 2014.

Kicking the conference off in style, attendees arrived at the hotel where they had the option to tour the TRUNO office headquarters, followed by a cocktail reception back at the hotel. Cocktails and five-star hors d'oeuvres were paired with live music to set the tone for the remainder of the conference.
Each day began with an insightful message from conference keynote speakers Tom Stone, and Jack Uldrich. Once breakout sessions concluded, attendees made their way downstairs for the TRUNO Lab Simulation and Partner Showcase. Flat screen TVs lined the walls and vendors were able to gain hands-on experience with a wide range of equipment.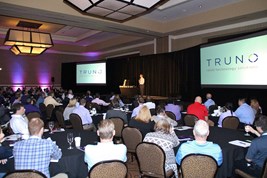 Dinner and entertainment was provided each night of the conference. On Wednesday evening attendees joined TRUNO employees at Main Event to enjoy free games, bowling, laser tag, etc. The following evening the conference group enjoyed live music to unwind at Nick's Sports Grill and Lounge.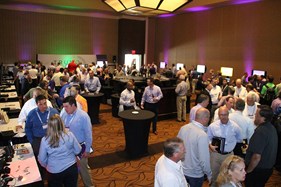 The conference provided attendees with countless informative breakout sessions focused on topics ranging from integration and industry expertise, tips for growing your business, to increasing productivity and security, and much more. Steve Black, Chief Marketing Officer and Chief Information Officer for Sprouts Farmers Market explained how Sprouts has benefited from the conference. "We've really gotten to know what's on the current road map, what future technologies are coming, and some of the things that TRUNO is going to launch in 2015. This company gets it, so they're a great partner for us," Black said. TRUNO would like to express deepest thanks to our sponsors, attendees, vendors, keynote speakers, and the Overton Hotel for making this conference such a huge success.
About Truno, Retail Technology Solutions
TRUNO is the national leader in integrated technology solutions focused solely on the retail industry. With over 35 years of experience and innovation, 3,000 customers sites, unmatched customer service and a world-class network of partners — TRUNO delivers retailers secure, stable and integrated technology solutions enabling them to navigate through an environment of ever-changing regulation, competition and technology.

Media Contacts:
Kara Watson
Director of Marketing
kwatson@truno.com
806.765.3250